Jul / 04
ARC Reef Live Rock
ARC Reef Live Rock is 100% Aquacultured right here in the US. For every 1lb purchased we plant 10lbs. of the source material. To date, we have created over 43,500 sq. ft. of coral reef and this figure will be nearly double in 2020.
Aquacultured Live Rock has several key advantages over all other types
It's a sustainable practice that helps rebuild our natural coral reefs right here in the U.S. you are also equally helping coral reefs in other countries by not creating demand for a product that is produced from destroying their own reefs.
Ships from within the U.S. and requires very little curing or no curing at all.
Premium Aquacultured products can have the same weight, density, and shapes as wild harvested Live Rock. It is important to select the right producer.
The location where the seed rocks are placed also matters greatly on the final product. Live Rock that is placed in the Gulf of Mexico will have more plant-based life such as macro-algae. Live Rock that is placed in the Atlantic Ocean will have more types of coral growth due to the lower levels of sediment and higher par levels. Both locations have their inherent risks and dangers from storms, wave action, and a shifting sand bed that can bury a farm's entire crop overnight.
Our Premium ARC Reef Live Rock is teaming with beneficial nitrifying bacteria and is fully encrusted with coralline algae, corals, sponges, and chock full of filter feeders, and invertebrates. Our Premium Live Rock is the best looking Live Rock that money can buy. It has been growing life on it for multiple years. You will not be disappointed one bit, we fully guarantee it with our 100% Unconditional Lifetime Warranty!
The ARC Reef Live Rock Difference
All our Dry Rock and Live Rock are calcium carbonate based and make an excellent calcium and alkalinity buffer for saltwater aquariums and fish tanks.
Lab analysis shows that our Live Rock contains less than half the phosphates contained within Fiji Live Rock and nearly 400% less than Pukani Dry and Live Rock.
Our Live Rock is the premium Swiss cheese type of Live Rock that is so highly sought after.
We encourage custom requests for specific shapes and sizes free of charge and we try our best to pick every order exactly as you requested.
Requires absolutely no curing and is ready to be dropped into your saltwater fish tank or any marine aquarium. (not for freshwater tanks)
Comes with our 100% Unconditional Lifetime Warranty – unhappy at any point with your selection, even if you destroy your rocks for any reason, we will exchange your old ones for a brand new selection absolutely free of charge.
Sustainably harvested and environmentally friendly. Every purchase helps us to replant coral reefs right here in the U.S. We've planted over 43,560 sq. ft. of reef to date.
For more information on everything you've ever wanted to know about Live Rock, visit our Live Rock – The Ultimate Guide.
Environmental Impacts of Live Rock Collection in the Wild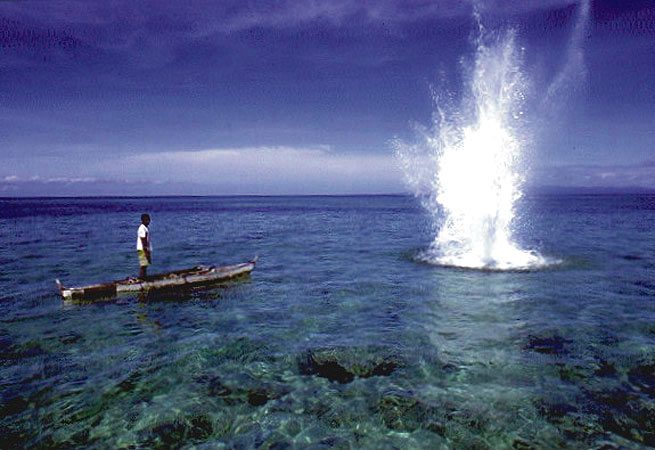 Unfortunately, not all live rock is beneficial to our marine ecosystems. Most commonly available live rock is harvested directly from living coral reefs in Fiji and other small island nations in the indo-pacific. Destructive practices such as using dynamite and crowbars to break up these rocks into smaller pieces have decimated reef systems all around the globe. Many nations including the United States and the Bahamas have banned this practice many years ago, but the U.S. is still the leading importer of wild harvested live rock.
Click Below to Check out ARC Reef's 100% Aquacultured Live Rock Products:
ARC Reef Premium Live Rock for Sale
ARC Reef Live Rock for Sale
ARC Reef Base Rock for Sale
ARC Reef Live Sand for Sale