SHIPPING OPTIONS
We offer three different Live Rock shipping options.  If you live in California or anywhere else where ground shipping would take more than 4 days, we strongly urge you to upgrade to 3 day Select or 2 day Air to avoid having to cure your Live Rock.
2nd Day Air: – UPS Express Air is the most expensive option but it will be delivered to your front door in 2 days, no matter where you live. If you choose our 2 Day Air option we will ship your order Monday-Wednesday, this insures that your Live Rocks will never sit in a warehouse over the weekend.
3 Day Select: – A great combination of speed and economy.  We ship out 3 Day Select every Monday & Tuesday to ensure that your package does not sit over the weekend.
UPS Ground: – Transit time varies by location (see map below) We ship all UPS Ground orders on Mondays and select areas on Tuesdays also. We do this to ensure that your package does not sit over the weekend. Check the map below, if it shows the transit time taking over 4 days, then we recommend upgrading to 3 Day Select or 2nd Day Air in order to avoid having to cure your Live Rock.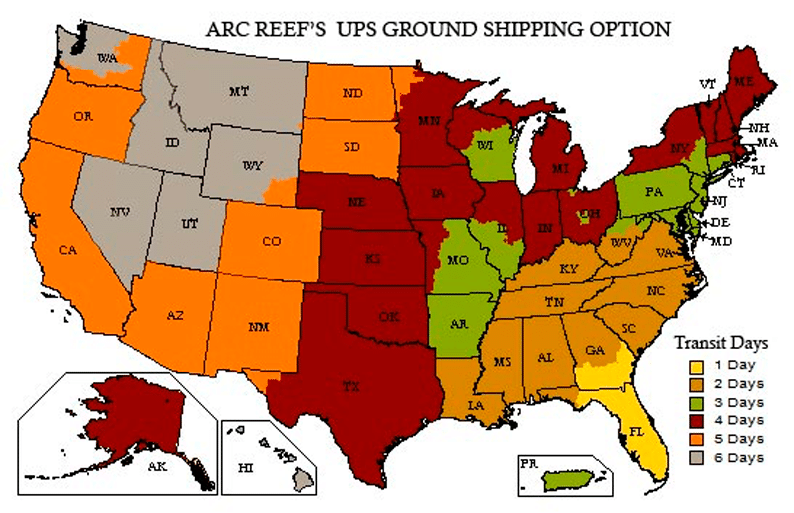 • We charge no handling fees or package fees regardless of shipping option
• We will include heat packs or cold packs if needed at no cost to you
• You will be emailed a tracking link once your package ships
• You can select whichever shipping method best suits you and your schedule
• All our live rock have our "Arrive Alive Guarantee", and our "Lifetime Warranty"
Live Rock Shipping Comparison
Shipping by:

ARC Reef

Shipping by:

Others

Live rock ships sealed inside 3 bags
Shipped wet with seawater
Packed with large prewashed cotton towel
Only shippers who use plastic containers
Use hot and cold packs to ensure best health
Offer 3 shipping services and speeds
Ships 7 days a week air, mon-wed ground
Arrive live guarantee on all shipping methods
Unconditional lifetime warranty
LIVE ROCK SHIPPING PROCESS
We pack all of our live rock shipments with extreme care and the utmost attention to detail.   After your live rocks are carefully chosen for you they are placed inside three separate, heavy duty 4 mil plastic bags that are waterproof. Several gallons of fresh seawater is then added to retain moisture. There is no need to ship live rock completely submerged, as water droplets inside the package will continue to condensate at the top of the bag and fall on the rocks during the evaporation cycle.  A large cotton cloth that has been prewashed and sanitized is also added to keep every inch of live rock wet and happy. We see distributors using newspaper often and can't stress just how bad this is for the live rock, the dyes and pump used   Each bag is heat sealed individually.  They are then packed inside a plastic container.  We do not use cardboard boxes, as they have proven not to hold up well to the weight and should something go wrong the traditional cardboard box will simply disintegrate once wet. Plastic also makes a much better insulator.   During the winter we use hot-packs, and in peak summer months we will add cold-packs to our packages to ensure that your live rock reaches you in the best possible condition.
UNCONDITIONAL LIFETIME WARRANTY
We are the only supplier of live rock that gives a 100% unconditional lifetime warranty on all our live rock and live sand.
ARC Reef Live Rock is so confident in it's products that we give you a free 100% unconditional lifetime warranty. If you are unhappy with your selection in any way, even if you accidentally poison or crash your tank, no matter what the circumstances, we will replace your past order of live rock absolutely free of charge, just pay shipping cost and we will send you out a replacement order the very next day.
Being an Aquarium owner should be a relaxing and stress free hobby and we strive to give you peace of mind to help make that possible.
To receive a replacement free replacement if your live rock or live sand ever loses life simply email us at Info@ARCreef.com and we will email you back with instructions.